Born and raised in Georgetown, I have over 34 years of experience as an art educator right here in my beautiful hometown. There is nothing I enjoy more than sharing the joy of painting with others. I try to make painting fun and uninhibited by rules with encouragement by example and simple step-by-step instructions. 

Degrees and Accrediations
Masters of Education
Certified Art Educator Ages K-12 
AP Certified Educator For High School Students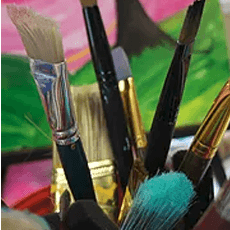 Your Title Goes Here
My studio is located on Shell Road in Georgetown, Texas. I provide a wide variety of custom painting fun including painting parties, private painting lessons, and painting camps, but I am not limited to my studio, I will take my parties on the VAN-GO! I also have a wide variety of bright, bold, colorful paintings for sale.
Your Title Goes Here
Contact me for pricing info
" We had the most AMAZING experience with Kimberly Keller for my daughters 6th Birthday. We had 14 young ladies And Kimberly was fabulous!! She kept their attention and was very enthusiastic the entire party. It was very well organized and the planning went seamlessly as well. I highly recommend her!! "
- Erin Ward Soper | April 26th
"We can't wait to paint with Kimberly again on Saturday! Family fun painting tree frogs for new grandsons nursery! 3 years ago we painted lizards for big brothers nursery. Kimberly does great with youngest 2 to oldest 76 and every age in between!"
-Therese Pacetti Cooley | July 18th
"My 6 year old and 8 year old LOVE Art Camp with Kimberly Keller. She is such a gifted artist and teacher! Our house has been so quiet because the kids are busy painting, drawing, or coloring. They can't wait to teach me all the technique Ms. Keller has shown them for the day. My youngest has loved it so much she has changed her SWIM birthday party request into a Painting Party at Ms. Keller's studio! We definitely will be returning through out the summer."
- Amber Bedell Roberson | June 9th
"I have painted with Kimberly Keller so many times .....each time is a blast...... she has always been very patient with me .....I get very nervous about making my paintings exactly the way I think they should be .......my sons and I have painted together with her several times and we have always had so much fun! Kimberly Keller has never been anything but patient and gracious with us! Will definitely go back!"
- Bobi Baker | December 24th
"We sure love Kimberly Keller, and our 7-year-old twins love going to paint with Miss Kimberly! We started with a day camp and loved it so much that we signed up to go every week with other homeschoolers. The kids are having a blast and learning fun and new techniques. I also love how Kimberly interacts with the kids and really pays attention. I would recommend camp and classes to anyone!"
- Stacey Gartrell Mecca | December 24th